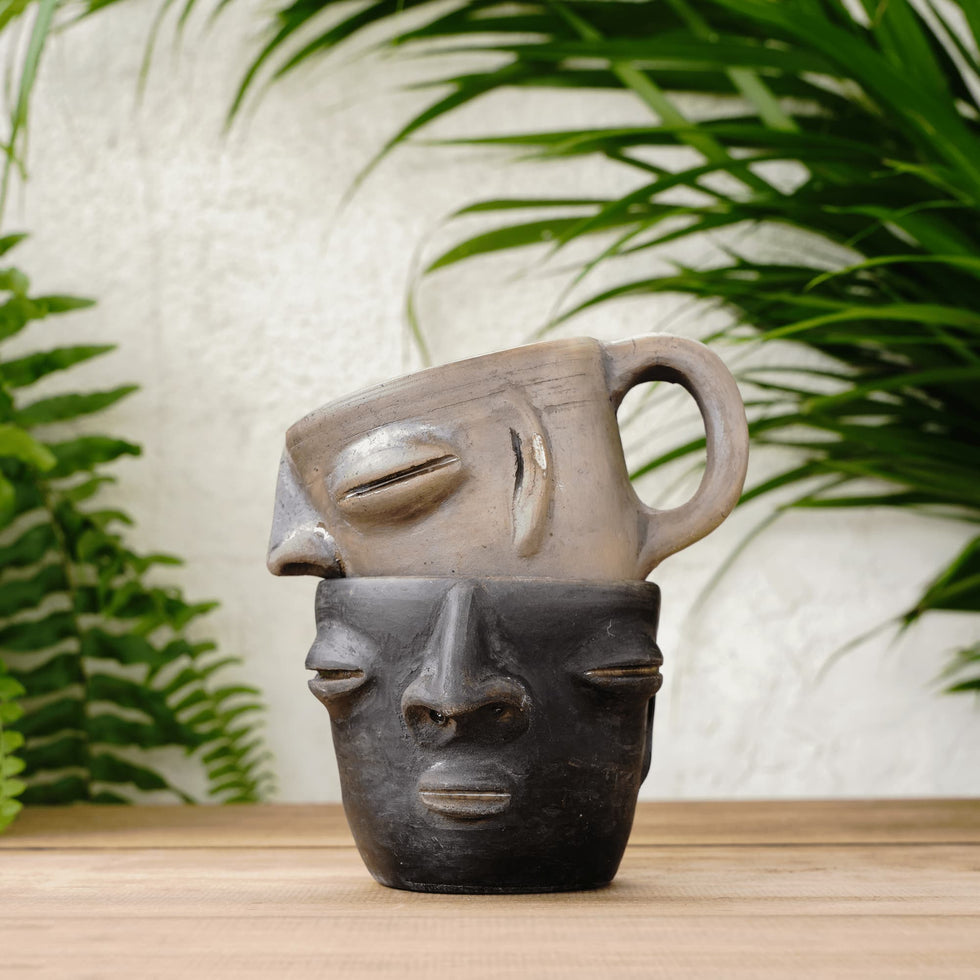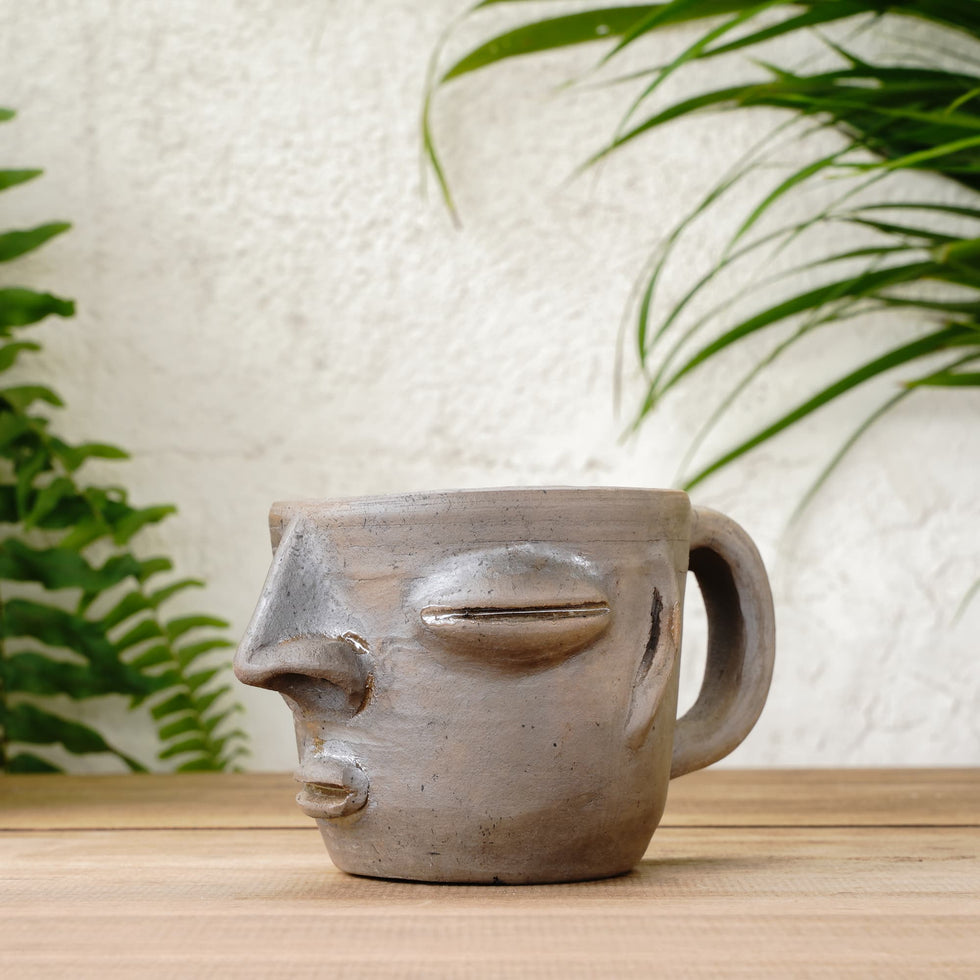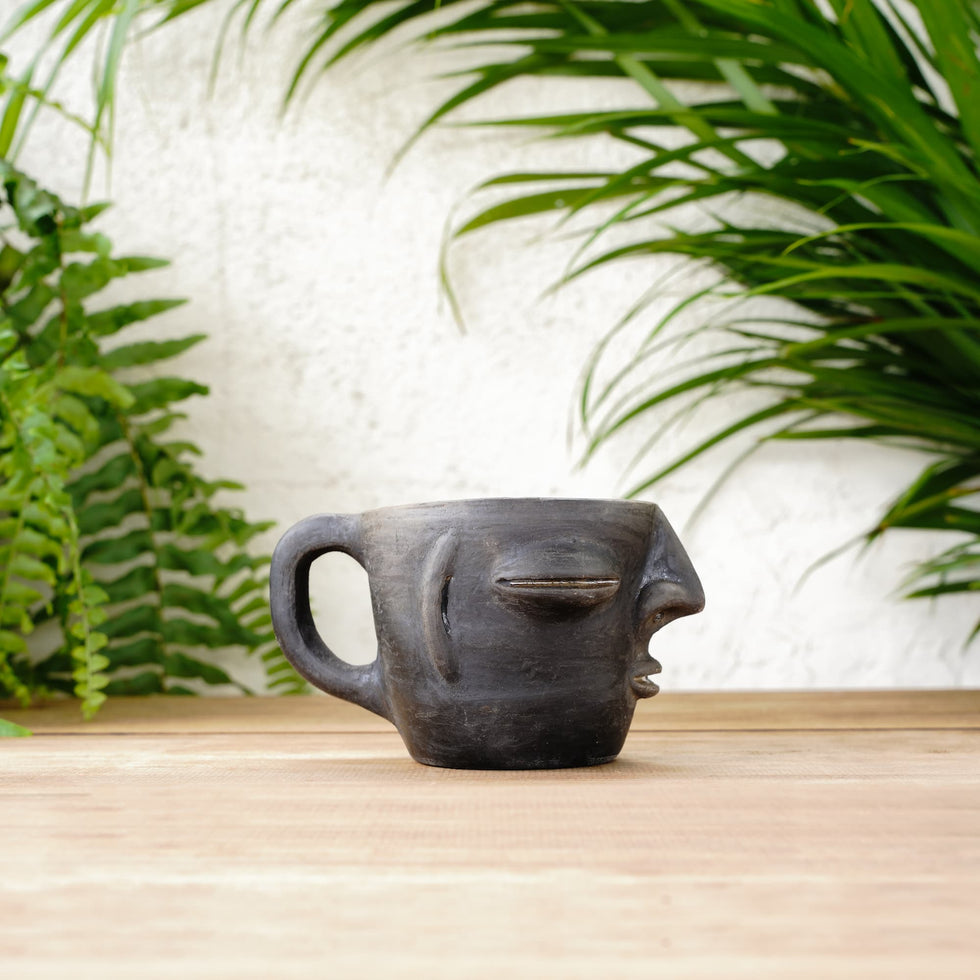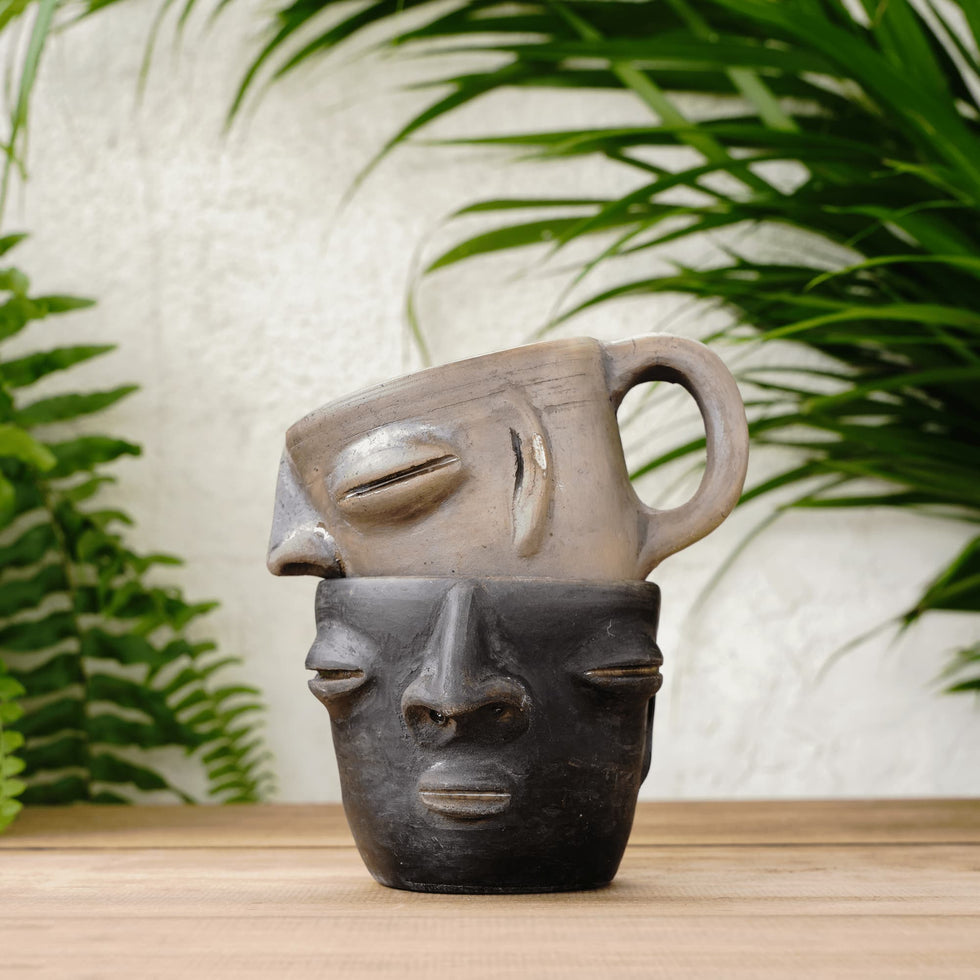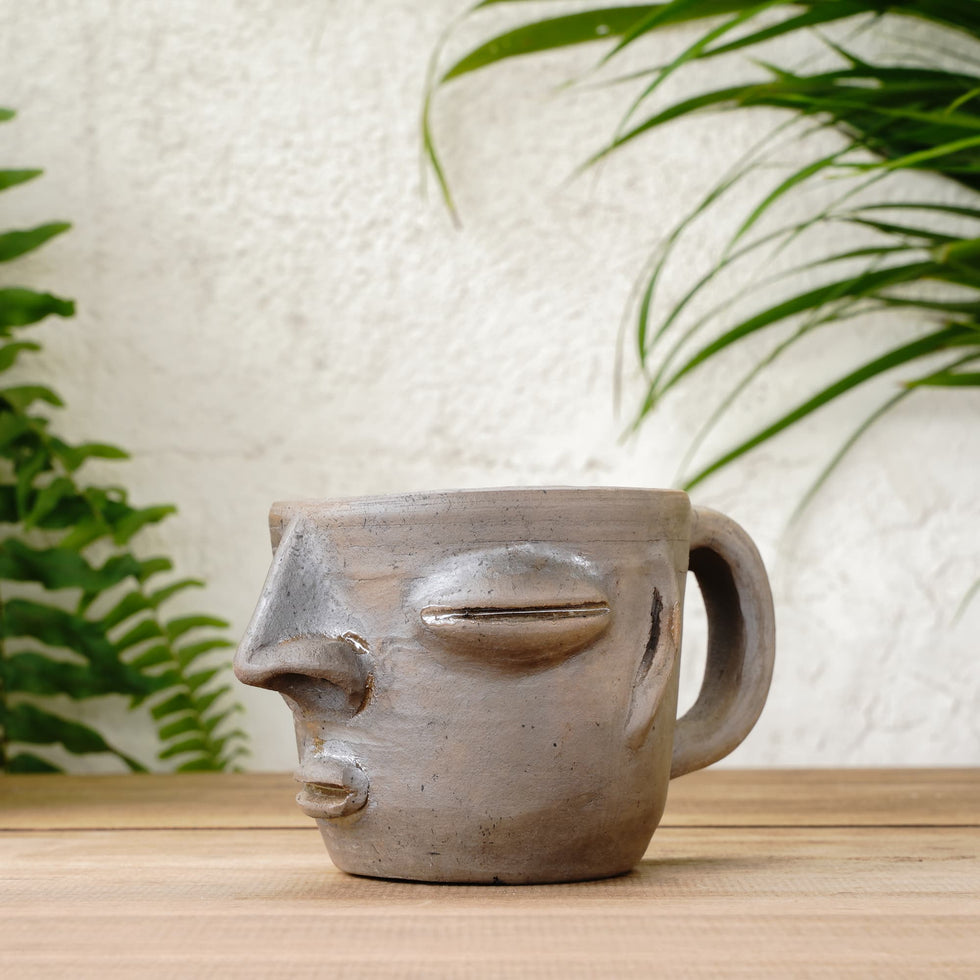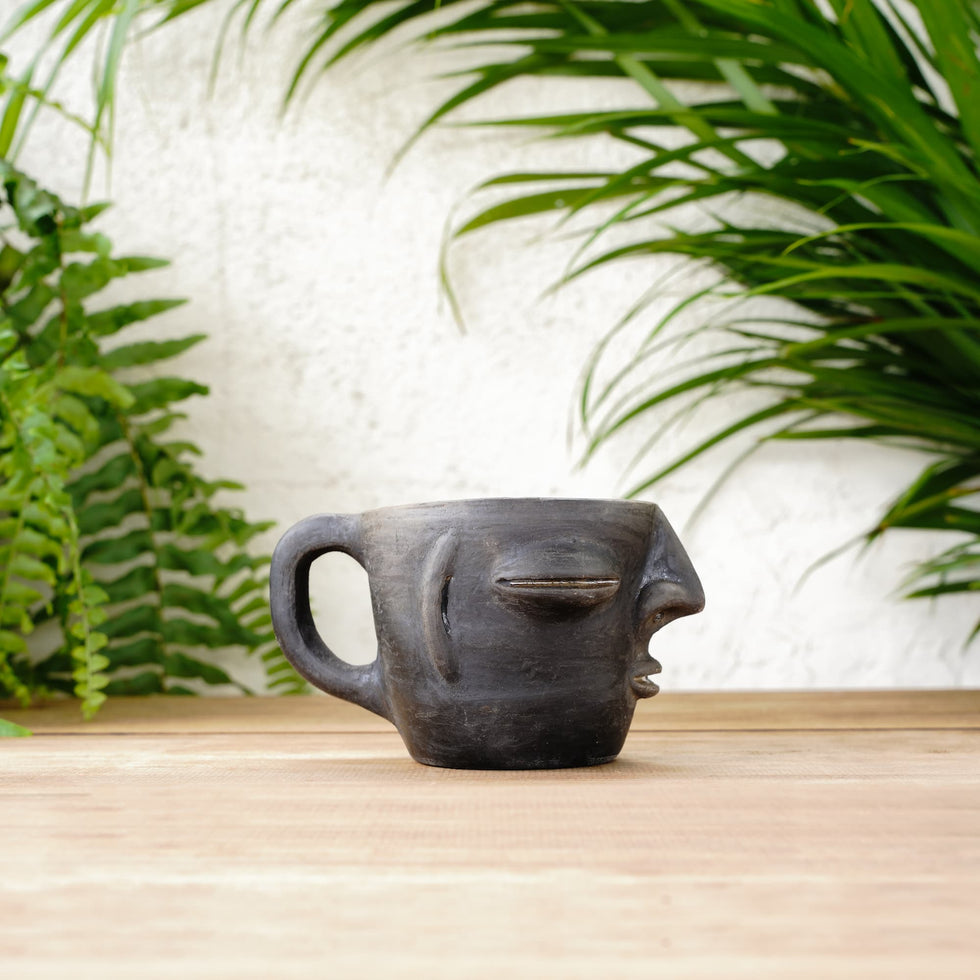 NEW!
Starts Shipping Mid-Dec
Pre-Order
Out stock
Breath & Whisper Mug
MAKER: Ana Beatrice Martínez
This stunning mug, envisioned by Ana Beatriz Martínez, is a vessel steeped in the meditative traditions of her indigenous ancestors.
Each face is an ode to introspection, inspired by stories etched in time. Ana Beatriz channels energy through the sacred act of her clay firing, instilling each piece with a life force that enriches every sip.
A masterpiece where each curve tells a story, and every glaze is a testament to the profound traditions of Oaxaca.
It's a daily ritual, a moment to commune with the ancients, as the energy of its creation infuses your beverage with the warmth of ancestral fires and the depth of indigenous wisdom.
These pieces of pottery are made of Mexican clay sourced from locally in the region of Atzompa.
Handmade by humans of the Taller Ometeotl. Differences in glaze applications and surfaces are to be expected and embraced.
Use to sip coffee, tea, or even as a decor accent piece.
Hand wash.
Sold individually.
Weight: 0.70 lb
Dimensions:

Length 3.75"
Width 5.5"
Height 3.25"

Color: Coffee and Taupe with mixed inside glazes.
Taller Ometeotl is a taller located in the village of Santa María Atzompa, Mexico. It is headed and was founded by Ana Beatrice Martínez. Story coming soon!
About the Open Firing Process
Open firing is one of the most primitive methods of firing ceramics and requires a great deal of skill to produce pottery. The process involves heating clay to a high temperature, in an outdoors custom built firing oven, causing it to harden and become more durable.
The final appearance of a fired piece is dependent on several factors, including the firing temperature, duration, weather conditions, and drying time. These variables can affect the texture, color, and overall look of the piece. Firing ceramics is a delicate process that requires careful attention to detail and expertise.
Since the clay pieces are exposed directly to the strong flames for a period of time, they often carry a smoky scent that diminishes with use. However, a warm, earthy smell of clay remains, adding to the overall character of the piece. Open firing is a time-honored technique that has been used for centuries to create unique and beautiful ceramics.
The finishing process is natural and looks different on every piece. Keep in mind that your purchase won't look exactly as the pictures on the website.
Mexico residents: contact us for a listing of local prices.
Shipping:
We offer multiple shipping options which can be calculated in your shopping bag and fully viewed at checkout. Please read our complete shipping policy.
Returns:
A return can be initiated within 7 days of delivery. The cost of the return will be the responsibility of the buyer. To request a return, please email support@woolandclay.co, include your order number and the reason for your return request. Please read our complete return policy.
Our Buyer Protection Guaranteed:
We ensure that you have complete peace of mind when making a purchase on Wool+Clay. If your item arrives not as described, please email support@woolandclay.co, include your order number and a description of your issue. Please read our complete buyer protection guarantee policy.
Restoring balance and joy in global trade
We ensure all our partners are treated equitably and with respect. We strive for everyone involved to succeed, grow and benefit.
Contributing to higher sustainability standards
We always question our processes and systems. We continuously explore new ways to improve our footprint and impact.
Practicing transparency and honesty
We will share all the information about our products, artisans, and systems. When we reach limits, we will share these as well.
Continue your journey with these wonders.