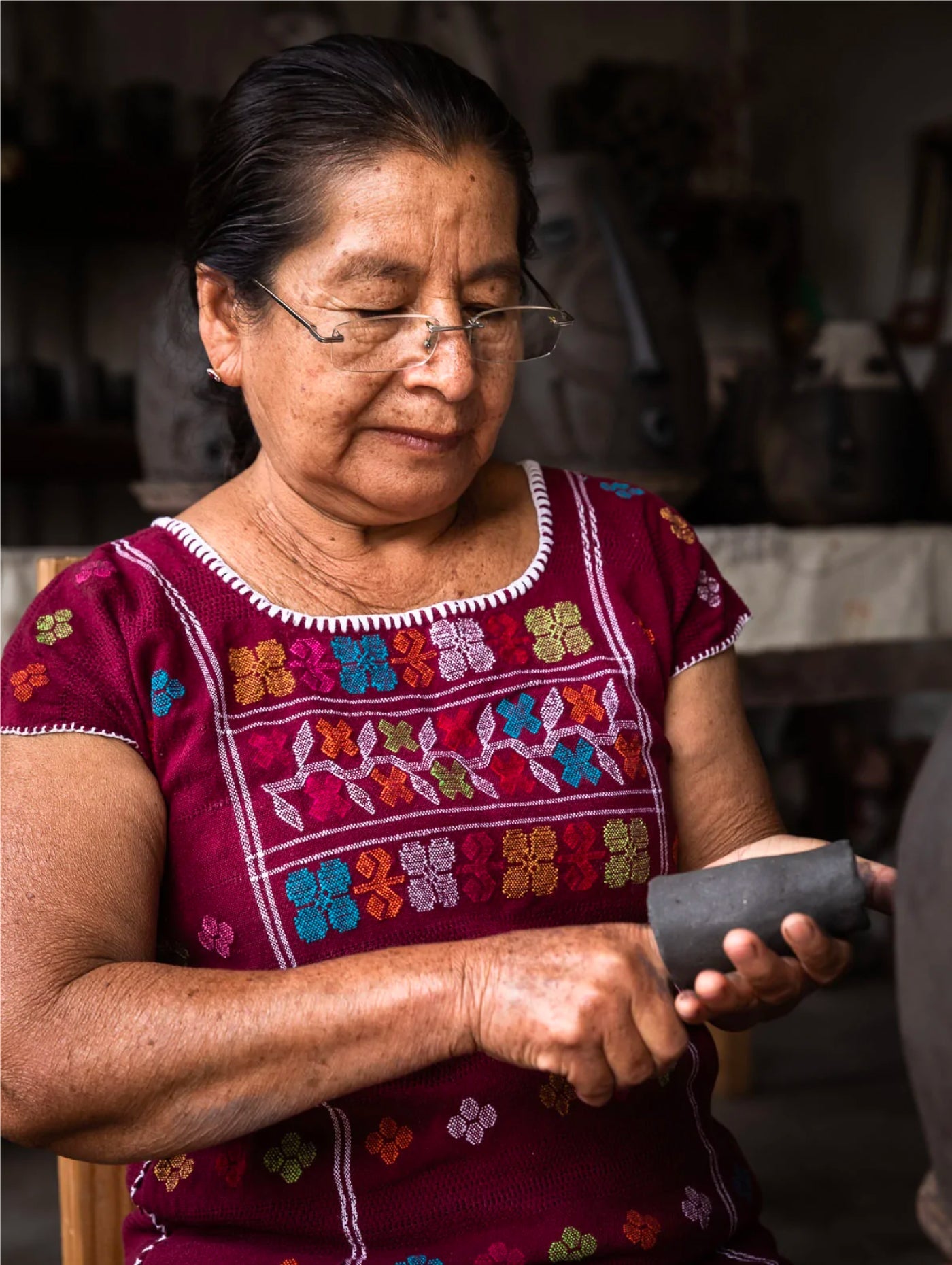 Leticia García Blanco of Gallería de Arte Peguero García on the rise and evolution of a family tradition. A story of family pride, traditions and not giving up.
Get to Know Leticia
With the following stories, we want to explore the themes of tradition, community, politics, love, connection that our partners experience, and through their lens. In this editorial series, we take a closer look at the unique microcosms created by small towns and how the built environment affects the way they think about, cultivate and evolve their skills and trade.

Our post-pandemic reality provides a unique moment to reexamine the levers and opportunities to cultivate our understanding of world-wide cultures, and grow our compassion for other humans, and the planet.

We speak with Ana Maria, a matriarch pottery master seeking to shed light on her trade situation as well as the competitive climate in her small town of Atzompa. Beto Ruiz takes us on a voyage through his inspiration and how he evolved his town's rug-making traditions. Adrian makes the case for the international art exposure as well as the power of a connection to nature.

In this series, we also speak to a selection of thinkers, designers, photographers, and local residents on their perception of the future of these small-town traditional trades. How their validation is growing and how it affects the global markets. We seek to map an ever-evolving cultural landscape in order to build awareness, compassion and build human connection.

With love,
Melissa
Stories of love, passion, tradition and connection
Section
Drop element here!
Stay curious. Live inspired.
We want to increase human connections through the celebration of art, culture, and crafts[human]ship.⁠⁠ We know that…⁠

Connections to other humans create moments of happiness.⁠
Connections to nature create moments of happiness.⁠⁠
Connections with higher energy create moments of happiness.⁠⁠

Compounded, these small moments of happiness lead to a higher sense of peace and understanding.⁠⁠ We want to help create more of these moments so you can live an inspired life.
Section
Drop element here!
From Teotitlán del Valle, Mexico
"I would love for the people in the community to learn that they can have fun, that work can be more playful, and that maybe they would enjoy weaving more."
Beto Ruiz
"It seems like I dreamed about doing this style of work. That is why, people in the town respects me. Because what I do is unique, not copying. But I already succeeded. I'm happy with my work."
Viviana Alávez